Lipid Removal & Clarification
Lipid Adsorption & Clarification
Effectively replaces chlorinated/fluorinated hydrocarbons (eg. freon)
Workflows for antibodies, proteins, nucleic acids, proteoglycans, and most serum analytes
A high binding capacity for lipids with minimal cross-reactivity with proteins and nucleic acids
Ideal for clarifying ascites, serum, cell & tissue culture, bile and organ homogenates
Clarifies saliva and fecal components
Exquisite selectivity profile including extracellular vesicle and exosome clearance
Extends the life of membrane and chromatographic columns.
Enrichment of delipidated tissue samples
For downstream processing of large-scale therapeutic proteins, enzymes and monoclonal antibodies.
Cleanascite™ is derived through a proprietary formulation of metallic oxide derivatives. Unlike other metallic oxides, Cleanascite™ does not have significant protein binding making its selectivity profile for lipids unique in the bio-research products industry. As a result, it is ideal to clear lipid-associated matrix effects from human sera, bile, ascites, and other high lipid content sample types.
View Details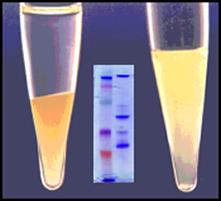 Egg Yolk Clarification
Insert: PAGE showing
Left: Markers
Right: IgY and other major protein fractions recovered


---
Discard
Lipids
Cholesterol
Extracellular Vesicles
↑
Cleanascite™
Solid-phase Aqueous Suspension
No Solvents, Freon or Chloroform
Simple Centrifuge (Not Ultra) Protocols
Safe Disposal
↓
Improved Assay Performance
- ELISA
- Immunocapture Microarrays
- LC-MS
- Toxin Neutralizing Titer
- Cell Response


---

Cleanascite™ is supplied as a suspension reagent. Simply add, mix and centrifuge in a 10 minute protocol.
Key References
Plasma/Serum Protein Biomarkers
The authors aimed at simultaneously measuring intact insulin and proinsulin derived C-peptide, to help predict development of diabetes mellitus, as well as in differential diagnosis in cases of hypoglycemia. Cleanascite™ is shown both to improve LC-MS measurements, and validated in accordance with CLIA '88 guidelines. { doi: 10.1016/j.cca.2016.01.019 }
Vaccine Development
To evaluate immunogenic response to a vaccine candidate, it is necessary to measure the antibodies from sera; a sample with a diverse lipid profile. In this citation, Cleanascite™ was used in a toxin neutralizing assay to evaluate the influence of cholesterol dependency, on a candidate protein pneumococcal vaccine. { doi: 10.1016/j.vaccine.2012.11.005 }
Bile Proteomics
The authors report methods to overcome the biological variability of analyzing a high number of bile samples. They concluded that delipidation yielded a considerable number of complementary protein identifications and that Cleanascite™ treatment was indispensable for in-solution digestion methods. { http://dx.doi.org/10.1016/j.jprot.2016.11.021 }
Ascites Monoclonal Antibodies
The researchers determined the role of complement on MAb-mediated protection for four mice Ig subclasses. After centrifugation of ascetic fluid, Cleanascite™ protocol was implemented to remove lipids. { doi: 10.1128/IAI.70.5.2598-2604.2002 }
Cellular Response Applications
The applications and references for the many diverse investigations using Cleanascite™ upstream of cell response measurements are described. { Cleanascite Cell Response Reference Applications }
Our BSG Advantage