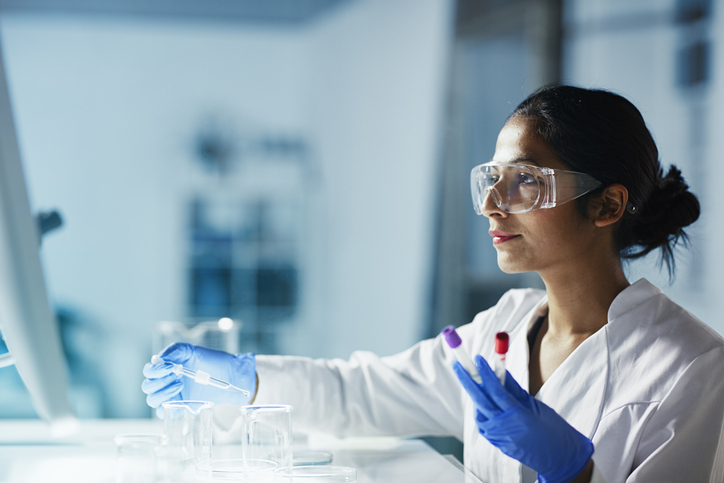 Evaluating Different Windows of Observation Solves The Many Challenges of Serum Proteomics
Case Study: AlbuVoid™ PLUS & AlbuSorb™ PLUS
With different windows of observation now available, Biotech Support Group offers distinct and diverse technologies to help solve the many challenges of serum proteomics.
Background
Biotech Support Group (BSG) is an innovator in the supply of proteomic sample preparation products. Our central technology focus is to develop highly selective separations products that do not rely on immuno-affinity. These can offer many advantages necessary to transition from discovery of biomarkers to robust quantitation of clinically useful biomarkers.
The Challenge
For serum, many proteomic enrichment strategies employ the use of immuno-affinity depletion to remove one or more high abundance proteins. Some common limitations of immuno-affinity however are high costs, regeneration requirements which may result in a diminished and inconsistent performance, as well as a required marriage of species to antibody. Because of these limitations, researchers need ways to enrich differently.
With some modest workflow adjustments, Viaralet et al. recently concluded that the BSG product - AlbuVoid™ proved to be faster and more cost-effective than antibody-based methods to improve quantitative clinical proteomics. Yet high abundance depletion is only a part of the challenge, the other challenge comes from consistent trypsin digestion. This is mostly due to the presence of Immunoglobulins, a particularly proteolytic resistant sample type due the large concentration of antibodies present.
The Solution
We now consider the advantages of first reducing the influence of IgGs- a heterogeneous and proteolytically resistant class of proteins. Two products - AlbuVoid™ PLUS & AlbuSorb™ PLUS support depletion of both Albumin and IgG, through different strategies and workflows.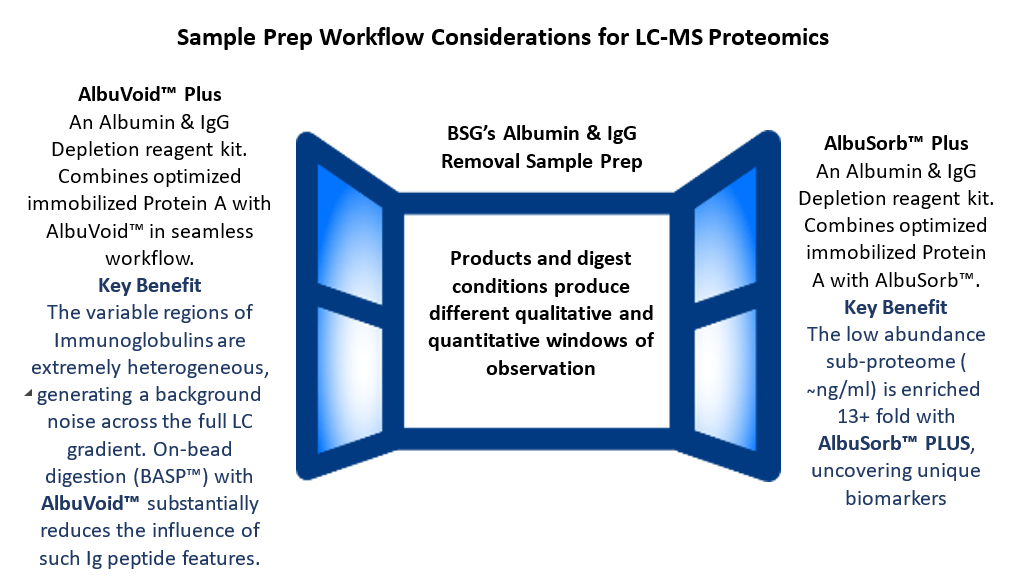 The Outcome
In a new application report, using LC-MS reporting metrics, we highlight the serum proteome bias characteristics of the products AlbuVoid™ PLUS and AlbuSorb™ PLUS. Some examples of their selective utility for biomarker discovery in cancer are also presented.
BSG's Albumin and IgG Removal Kits offer many such enrichment or depletion options:
Without reliance on immuno-affinity depletion to remove one or more high abundance proteins, along with Albumin, the 'PLUS' products substantially deplete Immunoglobulins through separations at the protein level.
Though versatile to all digest methods, On-bead digestion (BASP™) in particular offers several advantages:

The variable regions of Immunoglobulins are extremely heterogeneous, generating a background noise across the full LC gradient. On-bead digestion (BASP™) with AlbuVoid™ substantially reduces the influence of such Ig peptide features.
So in addition to workflow simplicity, BASP™ can be advantageous to shorten digest times, and utilized in targeted proteomic workflows whenever the target proteins do not require strong denaturing conditions.
The seamless workflow of BASP™ is adaptable to high throughput and automation.

With the exception of Immunoglobulins whereby FASP generates many more spectral features, both strong denaturing conditions (FASP) and on-bead digest (BASP™) conditions produce similar protein profiles. For certain proteins, a particular method can produce more spectral counts. So for targeted proteomics, please contact the corresponding author – Matt Kuruc, as we have a knowledgebase of over 1000 serum proteins to help select the best method(s) for particular protein(s).
The Complement sub-proteome is especially enriched by AlbuVoid™ PLUS. The digest conditions may bias towards one or more functional sub-populations, likely due to conformational transitions and protein-protein interactions (i.e., Factor Bb, Properdin) that occur upon activation. This needs further investigation.
The low abundance sub-proteome ( ̴ng/ml) is enriched 5+ fold with AlbuVoid™ PLUS and 13+ fold with AlbuSorb™ PLUS. Potential new biomarkers for cancer reportable in serum have been highlighted using AlbuSorb™ PLUS.
The same consumable products and methods used for discovery can be used for targeted proteomics, making the transitional goal easier, to quantitative LC-MS clinical proteomics.
For full report, download here.
For more information on the BSG complete line of Albumin & IgG Removal products, click this link.
Related References