Lipid Removal Sample Prep for Cell Response Applications
In this case study, we highlight two research articles describing Cleanascite™, a solid-phase suspension reagent ideally suited to remove lipids prior to applications involving cell response characterization.
Background
Biotech Support Group (BSG) is a leading provider of sample preparation products. We are dedicated to create new methods and applications to drive efficient workflows and better data quality for all proteomic and biomarker analyses. Of special importance is the value created when certain families of biomolecules can be evaluated with respect to cell response and viability. For this purpose, one very important family of biomolecules to consider is lipid and lipid-associated complexes like extracellular vesicles.
The Challenge: Removing lipids without introducing artifacts that affect cell viability
Many lipid removal methods utilize solvents, Freon or chloroform. Some methods use solid-phases that suffer from non-specific protein binding. Cleanascite™ is the only suspension reagent that does not have significant protein binding, making its selectivity profile for lipids un-rivaled in the bio-research products industry. As a result, it is ideal to clear lipid-associated matrix effects - including extracellular vesicles, which may influence cell response assays.
The Solution: Cleanascite™ Lipid Removal Reagent
In two recent research studies, "Endoplasmic reticulum stress is transmissible in vitro between cells of the central nervous system" and "Extracellular vesicles from bone marrow-derived mesenchymal stromal cells support ex vivo survival of human antibody secreting cells", the authors describe how Cleanascite™ is advantageously used to report cell response without the influence of lipids or lipid-associated extracellular vesicles.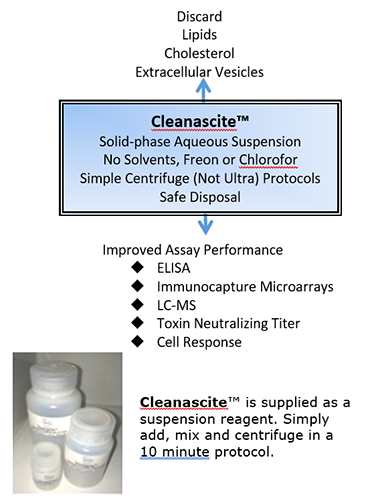 The Outcomes
Demonstrating its use on different procedures, researchers describe the use of Cleanascite™ to understand the effects of lipids on the quality of cell response data.
In the first referenced article, the authors studied the characteristics of a mediator secreted by endoplasmic reticulum (ER) stressed astrocytes and neurons. To determine if the mediator was a lipid associated factor, the article states "…100 μl of Cleanascite slurry was added to 1 ml of conditioned medium and incubated at RT with end-over-end mixing for 1 h followed by centrifugation."The authors provided evidence that depletion of lipids from astrocyte conditioned media using Cleanascite abrogated transmission of ER stress. Such evidence helped the authors conclude that ER stressed astrocytes and neurons secrete a molecule(s) with lipid characteristics which regulates both inflammatory and ER stress responses in other astrocytes, neurons, and microglia in vitro.
In the second referenced article, the study investigated the role of extracellular vesicles (EVs) in antibody secreting cell survival and IgG secretion. The article states "To understand whether disrupting the lipid plasma membrane that upsets the integrity of the EVs would compromise the survival activity of either the non-irradiated or irradiated secretomes,... We then cultured ASC {'human antibody secreting cells'} with conventional media (vehicle), secretome from irradiated MSC, or secretome from irradiated MSC {'Bone marrow-derived mesenchymal stromal cells'} that had been pretreated with the lipid-disrupting agent Cleanascite, which is known not to alter protein functionality. Cleanascite-treatment of the secretome dramatically reduced ASC functional survival,... Similar reductions were also noted with the secretome of non-irradiated MSC when treated with Cleanascite … These results demonstrate that lipid-membrane bodies, such as EVs, could mediate important ASC survival factors within the MSC secretome."
Related References